Gardening and landscaping: Services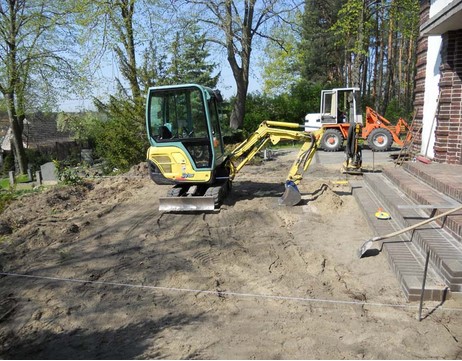 As landscape gardeners we are able to create living spaces for decades. Therefore our experts are a sought-after partner for all aspects of building with green spaces and at the same time a competent service provider for the realization of green spaces and gardens up to the professional maintenance of the green spaces.  In addition to plant knowledge, we also have a profound knowledge of materials. We carry out our work with the most diverse materials. In this way, we actively contribute to the preservation of biodiversity and are system-relevant players in the adaptation to climate change.
Private green spaces
In the case of a new planting in the private area, we are happy to support you from the beginning with the planning of the entire property area to the professional execution. We will gladly take care of the subsequent garden maintenance for you!
Public green spaces
Green outdoor areas in the public should convey a positive impression as image bearers. Mostly they serve as places of communication, recreation, as well as entertainment and are titled as "green lungs". In addition to increasing the value of the surrounding area, they also fulfill ecological functions: Rainwater is retained, the sewage system is relieved and the microclimate is improved. We have already been able to upgrade several public squares in this way.
We offer the following services:
Horticulture / Landscaping
earthworks
paving works
Concrete and natural stone work
Lawn
Trees, shrubs, perennials
felling, pruning
planting works
Green area maintenance
gabion construction
fence construction
ponds
rainwater management
Roof greening
Civil engineering / demolition
Excavation, grading
demolition work
Excavation and transport
Concrete work / foundations
Drainage and drainage
basement renovation
Drainage and insulatio
Renting: construction machine with operator