Heating ventilation sanitary: Services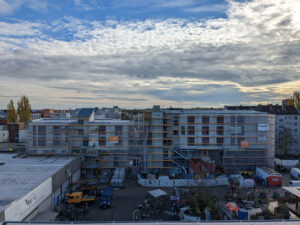 We are on duty for our customers all year round. The scope of work is not decisive. Whether personal consultation, customer service or inspection of the system technology, we are happy to be there to help you. We are your contact for new construction, conversion and renovation projects in the property sector.
We can also offer our business customers building and energy technology solutions for residential buildings, commercial and industrial premises. We are happy to assist you either for individual projects or throughout the year as part of our technical property management services. In addition to real estate management and development companies, our commercial clientele also includes architecture/engineering firms and the public sector.
We provide you with expert support as early as the planning phase. Together with our partners, our scope of services ranges from heating load calculations and heating surface design to the planning and design of drinking water and hot water networks. In addition, we plan your ventilation system including air distribution networks and ducts.
As a technical service provider for private, commercial and public clients, we focus on the following specialist areas, providing expert support from project planning to project handover:
Heating and sanitary engineering
Ventilation and air conditioning technology
Renewable energies
Control/MSR technology
Planning & Design
Together with our network partner, Wiedemann Technik und Beratungsgesellschaft mbH, we can offer you reliable, high-quality and uncomplicated planning and design services. The planning services include:
Heating technology:
Design of the plant technology in accordance with the current ErP Directive
Planning and selection of heating surfaces according to the application
e.g. radiators, panel heating, air heating, radiant ceiling panels, etc.
Planning of the pipe network and calculation of hydraulic balancing
Ventilation technology:
Calculation of air volumes according to the application area
e.g. air exchange rate, persons, MAK values, CO2 concentration, etc.
Planning and selection of the ventilation unit and the thermodynamic treatment stage
Planning and design of the duct network, duct network calculation
Cooling/cooling systems:
Calculation of the cooling load
Planning of cooling generators and cold accumulators
Planning and design of cooling surfaces according to requirements:
E.g. heat sinks, surface cooling, air cooling, recirculation units, etc.
Planning of the piping network and calculation of the hydraulic balance
Sanitary engineering:
Planning and design of solar systems for water heaters
Planning and design of water heaters
Planning and design of drinking water/hot water networks
Factory customer service
We are working for Systemair in the regions of Berlin, Brandenburg, Mecklenburg-Vorpommern and Saxony.
For further information please contact:
www.systemair.com/de/Deutschland
We will be happy to provide you with a non-binding offer. We are happy to accept inquiries by phone or e-mail.