Date 12.10.2023
Celebratory milestone: our topping-out ceremony in Bad Saarow
Topping-out ceremony in Bad Saarow – The last nail has been hammered in and this was celebrated properly.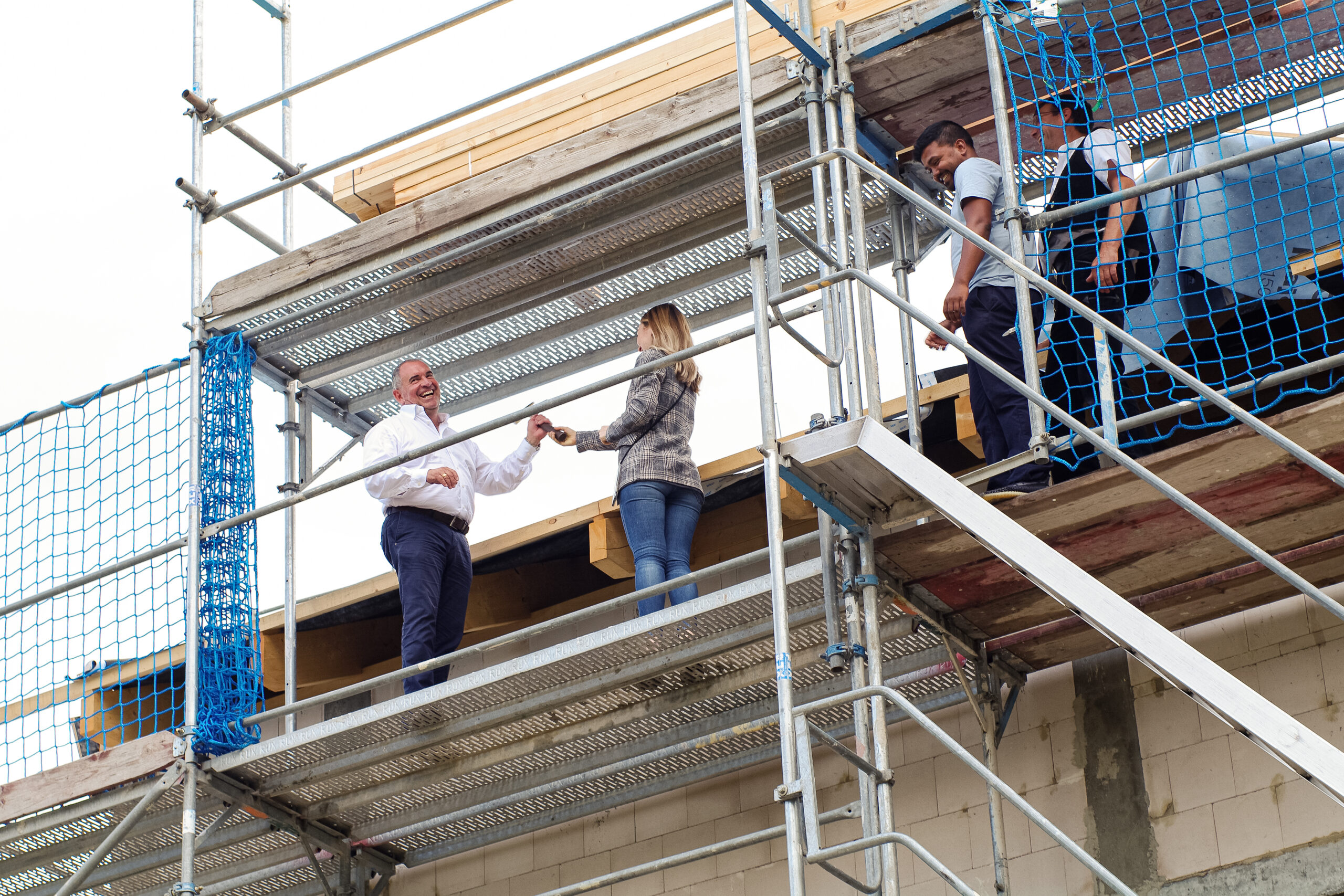 Our construction project in Bad Saarow is already completed, but today we would like to tell you again about our successful topping-out ceremony. Over many months our architects, construction managers, craftsmen and of course many other employees have worked on the 2 apartment buildings with parking spaces. Thus, 24 residential units and a floor space of 1,575 m² have been created.
Since we value tradition and also wanted to thank our craftsmen once again, we held a topping-out ceremony in the summer of 2022.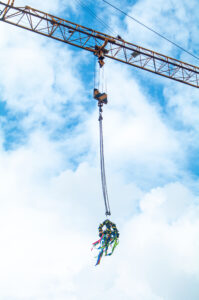 If you are now wondering why you still celebrate a topping-out ceremony nowadays, here are some topping-out facts:
The topping-out ceremony has a long tradition; people have been celebrating since the 14th century, when the (wooden) roof truss is erected. In the Middle Ages, the topping-out ceremony was also of important legal significance, when this was celebrated, all bills were paid and the house was thus free of debt. Superstition also played a decisive role. Nowadays, this is no longer as strong as in the Middle Ages, but topping-out ceremonies are still celebrated with pleasure. Above all, to thank the craftsmen and women and to celebrate the new house full of anticipation. The topping-out ceremony, is always held when the shell of the house is finished and the roof truss is erected, but the roof should not yet be covered!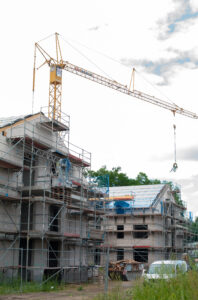 Also in Bad Saarow we celebrated as soon as, the roof truss or rather the two roof trusses stood. In beautiful sunshine, many employees gathered east of Berlin on the construction site and celebrated together, the progress of the project. After all, a large team, including members of our structural engineering, civil engineering and engineering groups, was involved in the construction work. Traditionally, the project manager, our managing director and the foremen of the carpenters climbed on one of the almost finished houses and opened the topping-out ceremony with a topping-out wreath and a proper topping-out speech.
Afterwards, back on the ground, the celebration continued in a relaxed manner with cool drinks and looking back together once again.
All in all, we are happy about a successful topping-out ceremony, which successfully combined traditional and modern customs. But after the topping-out ceremony is before the interior work, so a few days later our HLS and electrical company set to work to complete the houses as quickly as possible.
Currently, all construction work is completed and all 24 residential units are rented.